Where Were You in '62?
February 17, 2022 | Jim Angehr
I have a bench in Jackson Square.
Jackson Square is settled right on the riverbend of the Mississippi River in New Orleans and constitutes the center of the French Quarter. It hosts sculpted gardens, green spaces, and a statue of our seventh President on horseback. Find some shade, take a seat, and relax: you'll smell the beignets from Cafe DuMonde, gander at the mimes staying death-still, and hear some of the best brass bands in the world playing for tips on the sidewalk. (If you're lucky, you might also pick up some old timey chords from the calliope organ grinding on the riverboat.) St. Louis Cathedral, the Pontalba apartments, and bottomless Sazeracs are all within a stone's throw. Once you enter Jackson Square, time unfolds at a different rhythm, like light bending strangely as it filters down through lead glass.
I can't think of Jackson Square––and the French Quarter––without remembering my mom. I grew up in suburban New Orleans, and she and I would jaunt over there all the time. For years after that, whenever I'd return to the city on vacation, my mom and I would have a standing order to make sure we got back to the Quarter. Typically, we'd grab a muffaletta and an Abita Amber from Cafe Masperro before meandering over to our bench in the Square. We'd sit there, not talk too much, watch people, and enjoy time letting its hair down and becoming lazy.
It's been a number of years since my mother has been well enough to stroll around the French Quarter with me. As her Alzheimer's has progressed, she's bedbound in Western Pennsylvania now, and even a single, unassisted step is more than she can manage.
Still, every chance I get, I make it back to our bench in Jackson Square. I mark the years by that bench. It was in 2018 that I happened to be on a solo trip to NOLA (sabbatical!) when my dad called my siblings and me to say that he and my mom had been carrying this Alzheimer's diagnosis between themselves for years, but that now as her decline was accelerating, it would be our sad burden also to shoulder. Within a day, I was back at our bench alone––praying, journaling, remembering the countless hours of love, laughter, and occasional arguments we shared on that seat. And wouldn't share again.
I've been back to that bench a couple of times since then. The bench doesn't change, but I do. We do. Jackson Square is a tangible, physical signpost of time's passing for me. Every return gives me opportunity to take stock, contemplate what's become missing, and summon to mind what's been gained. It's an old friend in conversation that helps me mark my time.
Even more does the Bible serve that purpose in my life. For about 20 years, I've kept to the same read-through-the-Bible-in-a-year plan. Every January, I begin in Genesis and soon begin to struggle through Leviticus. I enjoy Isaiah every summer and savor the gospels each fall.
The scriptures don't change, but I do. I'll circle back to the same passages on an annual basis, but every time I'm older, heavier. More sadnesses have arrived, and more grace has been received. So many different bible texts encourage me to take stock and mark time.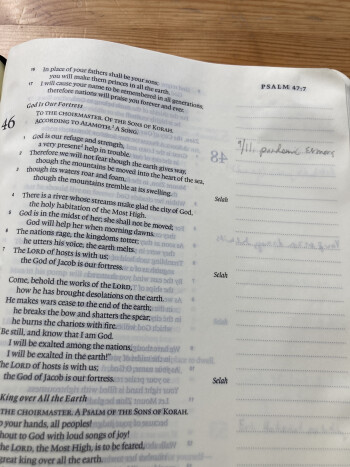 One of those passages is Psalm 46––Martin Luther's "Mighty Fortress" song––that my plan brought to me once again yesterday. Above you'll see a photo of what I've written in my Bible marginalia next to it: "9/11, pandemic sermons." Just a small note, but it reminds me to linger on the Psalm 46 bench for a little while. I was literally less than a month into my first gig of preaching regularly at a local church when the Twin Towers fell. The following Sunday, I preached from Psalm 46. I'm sure I was too green to have given a good sermon then, but I tried to lead people towards the hope that in Christ, God is our refuge and strength, and that even if towers fall, even if Jerusalem's Zion was toppled (which it was), our confidence is that we are nevertheless graciously preserved. All the way to a new heavens and a new earth to come, the Lord of hosts is with us, and the God of Jacob (and Jesus) is our fortress.
Almost two years, pandemic first began to change our world, and Psalm 46 was again my sermon text for the first Sunday after we shut down public worship. (Hello, online worship.) Our world––and certainly I––had changed between 9/11/01 and March of 2020, but the hope articulated in this ancient poem had not. As I look again at Psalm 46, I've accumulated more sins for sure, and registered more sadness, but I've found God to be all the more gracious and strong. By God's grace, I'm still singing "A Mighty Fortress is Our God."
I'm probably not done preaching emergency sermons from Psalm 46, as I'm sure that there will be another national or international crisis to come down the pike. At the very least, Psalm 46, I'll see you again next year, and I'll sit, linger, and remember for a little while.